—
Ludo Groen is a researcher and tutor at The Berlage at Delft University of Technology and Het Nieuwe Instituut in Rotterdam, whilst practicing architecture from his eponymous studio. His built work includes several exhibitions, interiors, and private houses. At Het Nieuwe Instituut, he contributed to various research projects including Automated Landscapes, documenting the implications of automation in the built environment; and Financial Architectures, documenting the intricate financial formulas, instruments, and agents behind the designs of present-day buildings, cities, and landscapes. Since 2020, he acts as junior council member of the Raad voor de Leefomgeving, the primary strategic advisory board for the Dutch government and parliament in matters relating to the physical environment and infrastructure. He holds a cum laude degree in architecture from both The Berlage's Post-Master (2018), and Delft University of Technology's Master of Science (2016). His writings are published at Failed Architecture (2021), StrelkaMag (2020), and OASE Journal for Architecture (2019). He contributed to various exhibitions including Together and Apart at the Venice Architecture Biennale (2018), Stucco Storico at Bureau Europa (2018), I See That I See What You Don't See at the XXII Triennale di Milano (2019) and Het Nieuwe Instituut (2019), and Automated Landscapes at the UABB in Shenzhen (2019). You can reach me here.
—

Exhibition Design, Bureau Europa, Maastricht* (2018)
Plastic moldings, styrofoam ceiling roses, marble-patterned wallpaper: the ornamentation of today's domestic interior seems more standardized and readymade than ever before. In fact, the apparent seriality we encounter today has always been there. The design of this exhibition questions notions of seriality and originality. Does an isolated vitrine turn any ubiquitous object into something original? Or do original fragile artifacts lose their uniqueness by exhibiting them in rows of identical vitrines; or even within a modular grid? What if originality can be found in the ingenious application of serially manufactured products? Hence, can ornamentation arise from a readymade material like gypsum board, originally colored to indicate specific characteristics like moisture– or fire–resistance?

*Exhibition curated by Remco Beckers and Saskia van Stein. Graphic design by Hansje van Halem. Photos by Johannes Schwartz.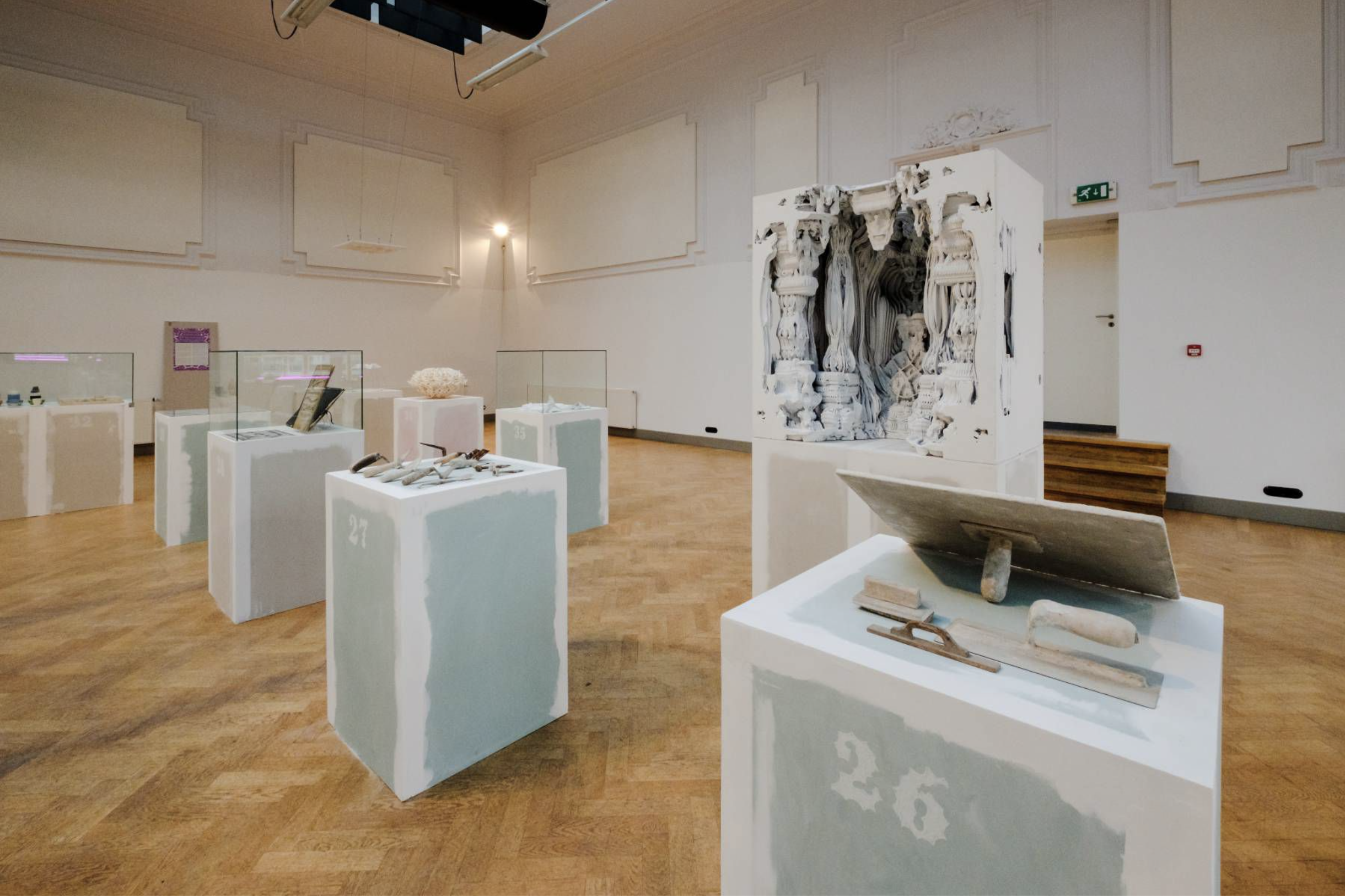 —
Private House, Reeuwijkse Plassen* (2020)

What if all that's left to design are windows. The renovation of this post-war villa was brought down to the design of four windows frames, framing the surrounding peat lake. Frames were measured, drawn, sawn, milled, sanded, primered, lacquered, and mounted by the neighboring full-automatic window factory.

*Photos by MWA Hart Nibbrig.
—
Private House, Culemborg* (2014)

When Frank Lloyd Wright in the 1940s published the Jacobs House II in the pages of the Ladies Home Journal, his objective was as ambitious as to set a model for ecological small, single-story dwellings. Often L-shaped to fit around a garden terrace, the model homes were characterized by the use of vernacular materials, canopies for natural cooling, natural lighting with clerestory windows for passive solar heating, and a strong visual connection between interior and exterior spaces. Though never adopted on a large scale after the fall of oil prices in post-war America, Wright's model house reasserts its relevance in the context of the twenty-first century's pursuit of sustainability. The principles of the Jacobs House II are readopted in the design of this villa. Acting as a shell, its dark and rough timber skin shelters a sequence of bright refined interior spaces oriented towards the sun.

*Project together with ORIGINS Architecture (Jamie van Lede & Jeffrey Mulder). Photos by Stijn Poelstra.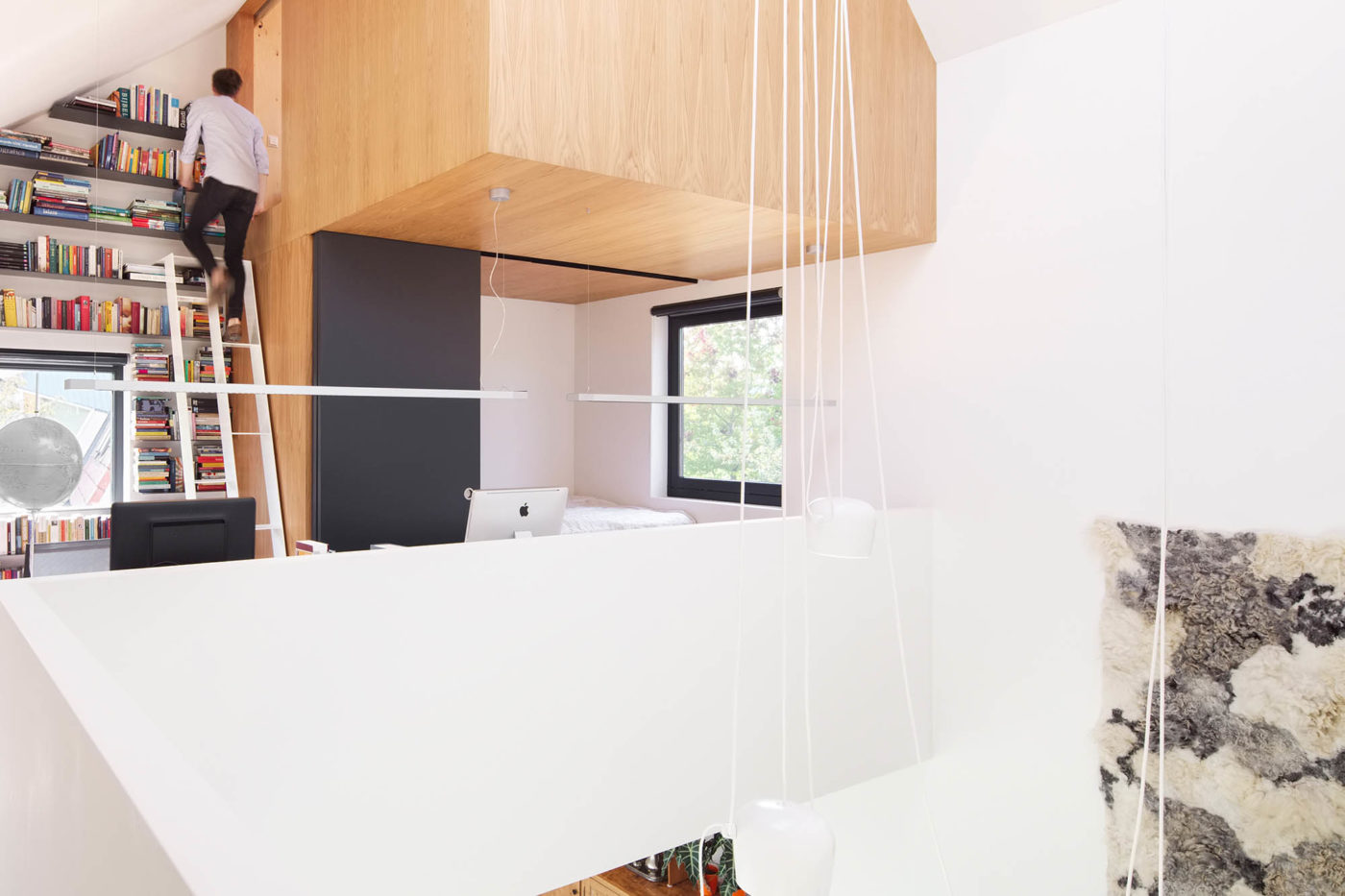 —
Health Care Center, America* (2017)
After declaring the end of the welfare state in 2013, local governments in the Netherlands paradoxically embraced the concept of participation, revisiting Giancarlo De Carlo's participatory architectures freed from the needs of bureaucracy. In the wake of this so-called participation society, many subsidies were granted to experimental design projects to be conceived in close collaboration with prospective users. This project is a transformation of a 1891-monastery into a health care center, in which patients, medical practitioners and local citizens contributed to a design proposal, characterized by an alignment of historical and contemporary programs, proportions, and materials.

*Project funded by Province of Limburg. Participatory trajectory together with Berit Ann Roos. Photos by Stijn Poelstra.




—
Apartment Interior, Rotterdam* (2018).
Renovation of a loft apartment in a former harbour office, housing a bright interior cladded with readymade materials, including polycarbonate doors, PVC strip curtains, and a cedarwood sauna.

*Exterior by Powerhouse Company, Rotterdam.





______